miracleshining
Work was exceedingly long today as I struggled against a brutal cold that has laid siege to my nose, throat and ears. Unfortunately, its nothing that antibiotics will take care of so I just have to bear it. I had a low grade temp today and though everyone kept asking if I was feeling well, when I mentioned I would like to go home early just for today, they (meaning only two peeps that I work with in the office) had a ton of work for me to do. So I made it my whole shift relying on my resilience and stubborn nature.
I'm still displaced for another night. Hopefully tomorrow evening I'll get back to my own bed even if the rest of the furniture isn't in the new master bedroom yet. I'm typing using my comp this afternoon because I managed to squeeze my way into the guest room where much of the pieces that are being sold are sitting at the moment.
And since I was having a crappy day, I decided to do an SA doodle to cheer me up. It ended up angsty. I like it.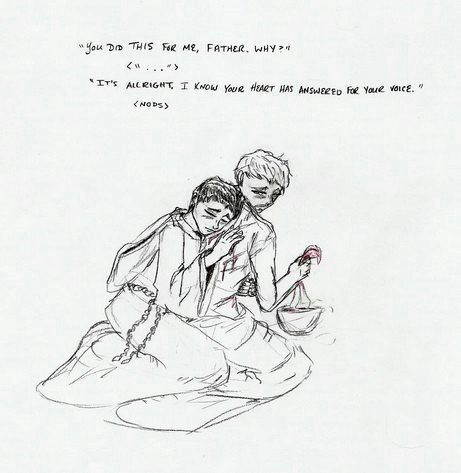 I had a red pencil I found at work, thus came the little bit of shading. By this moment, I figure Connell is about twenty, which would probably make O'Malley somewhere in his late forties. I love age gap relationships!
That's it for now!